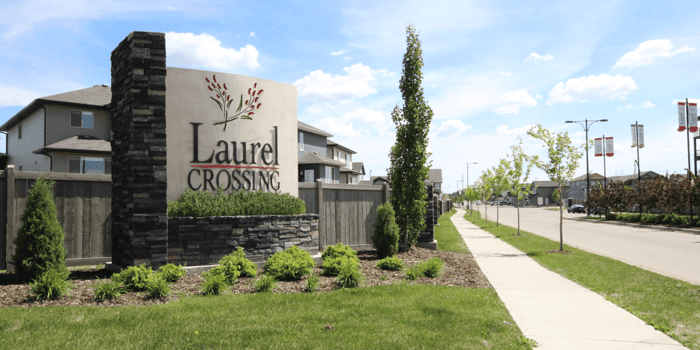 Southeast Edmonton is the perfect location for those who prefer a more laid-back lifestyle. It doesn't have quite the hustle and bustle you find on the west side, but close enough that you can easily make a trip to West Edmonton mall or Edmonton Valley Zoo for the day. At the same time, it's still inside the city perimeter. While you might find it to be a bit quieter, you're still living close to every amenity you could possibly want.
StreetSide Developments is currently building townhome and condo-style homes in two up-and-coming communities in the southeast Edmonton area. Learn more about them to see if one might be the right place for your new home.
Laurel Crossing
Laurel Crossing is a family-friendly community with plenty of green spaces and trails throughout the neighbourhood. Residents enjoy walking or biking around the community pond, and families often meet up at the playground so the kids can burn off some energy. It's close to the Millwoods Town Centre, and there's only a 20-minute commute to the downtown area.
Altius Laurel townhomes will feature two-storey floor plans with a detached garage ranging from 1,365 to 1,403 square feet. Floor plans are open-concept on the main living area, and you'll get to enjoy your own private balcony for relaxing at night. Your master bedroom will include a walk-in closet and full ensuite. Whether you value extra storage space or extra living space, you'll be able to find a floor plan that suits your needs. Best of all, these townhomes are condo-fee free!
Tamarack Common
Tamarack Common might be close to Laurel Crossing, but it definitely has its own unique feel. There's a large park in the centre of the community that acts as the perfect meeting spot. There's a playground there, but also open space for playing soccer or tossing a Frisbee around. Many residents appreciate the diversity you find from having so many different types of homes in one area. You have more flexibility when it comes to finding a home that meets your needs.
StreetSide has some Altius Tamarack townhomes remaining and will be featuring brand new Aloft Tamarack models soon! These make perfect starter homes for families, but you may also find there's enough space for you to grow into it. In our townhomes, you'll find popular features like walk-in pantries, large mudrooms, and balconies. The master bedroom will have an ensuite and walk-in closet, and the other bedrooms are perfect for kids or guests.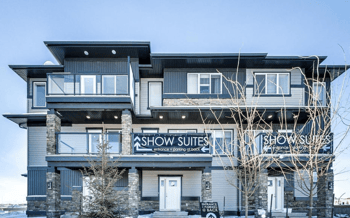 Single professionals and retired couples might be looking for a smaller home with less maintenance. If that sounds like you, consider the ALOFT models. These apartment-style condos still have a spacious feel due to the open-concept floor plan. You'll still get features like walk-in closets or an ensuite in the master bedroom, but the space is more compact, and you don't have to worry about exterior maintenance.
Affordable Style
The real advantage of buying a home from StreetSide is you're able to get a home with a stylish, modern interior at a price that's affordable for your family. Our award-winning home designs feature many of the most popular design choices today. For instance, you can have quartz countertops, laminate flooring, and a kitchen island with an eating bar that comes standard. When you buy one of our homes, you'll get the opportunity to choose the materials and design yourself, using any of the choices available in our designQ design centre. There, professional interior designers will help you create the right look for your home.
However, we pride ourselves on providing these modern looks at affordable prices. By choosing a townhome or condo-style home, you'll be saving a lot of money. At the same time, thanks to modern building techniques, sharing walls doesn't mean you have to share sounds with your neighbours. Your home will always feel quiet and private.
Southeast Edmonton has a lot to offer. If you haven't been out to see our communities, it's time to come take a look. We know you're going to be impressed by the quality of our products and workmanship. Quick possession homes are available if you can't wait to move in. Talk to an Area Manager to learn more about how you can get started.
Looking for more information on other great communities throughout the city? Check out our previous posts on the best features of southwest and north Edmonton.