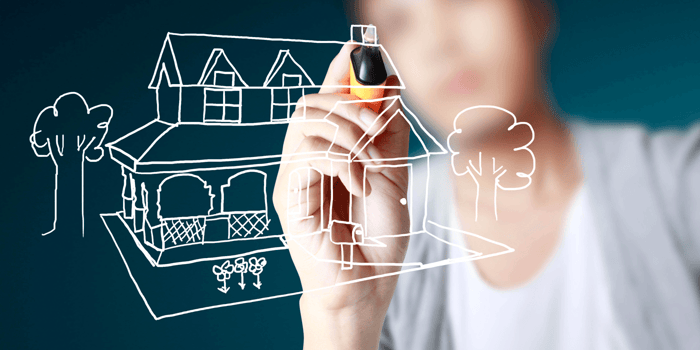 When you're young, it can seem like you're getting a lot of conflicting information about how you should spend your money. Some things definitely make sense. For instance, it's smart to get into the habit of saving for your retirement when you're young because it gives your money the chance to grow. Other advice — such as the advice to hold off on buying a home until you are married, more financially stable, or able to afford your dream home – is a bit more dependent on individual preference.
There are certainly many advantages to buying a new home, and if you've been wondering whether your own place would be a valuable asset or a weight holding you back, it's time to seriously look at your options. Buying a new home in your 20's may not make sense for everyone, but it can certainly be the right choice for you.
Building Up Equity
Every time you make your monthly payment, a portion of that money goes into something you'll own. Instead of throwing away your money on rent, you'll be putting yourself in a better financial position. You'll either completely own your home by the time you reach your 40's or 50's; or you'll have quite a bit of equity to use as a down payment when you're ready to buy your next home. Your future spouse will undoubtedly appreciate the fact that you've already invested in a place to live.
Taking Advantage of Low Interest Rates
Right now, the mortgage interest rates in Canada are quite low. These rates have a big effect on how much your monthly payment is, so it's smart to lock in this low rate now. If you wait, there's always a chance that you'll get stuck with significantly higher rates. Naturally, you might think there's also a chance that rates could drop, but if this happens, you can always refinance your mortgage to take advantage of the lower rates. As long as you're able to afford the down payment and the monthly mortgage payments, buying a home is often the safest move in the long-term.
Protection from Problems
If it comes down to a decision between buying a newly built home and one that's been owned before, buying new is often a smart investment for younger people, especially those who don't have all the DIY knowledge of generations past. With a new home, you won't have to worry about things breaking down and paying for repairs right after you've moved into your home. A quality builder will offer a warranty on the homes, so you know you're protected.
Investing in Your Life
When you buy a home, you're not just investing in a place to live, you're investing in a community and building a life. Putting down your roots makes you want to be an active participant in your community. You'll be more interested in community events, what the schools are doing, and how you can make a difference. Becoming more active in the community when you're in your younger years will help you become a pillar of the community as time goes on.
Additional Community Resources
When you buy a new house or condominium in a planned community, you also get additional benefits you wouldn't always find in an apartment complex. These often include things like picnic areas, playgrounds, swimming pools, and fitness centres – all within walking distance. This makes your life easier and helps to reduce gas costs. If you were going to pay for access to these amenities anyway, you'll even be saving yourself some money.
Higher Resale Value
If you think you'll want to sell your home in the future, buying a new home can have big benefits. Design preferences might change over time, but a newly built home is bound to be more technologically advanced than one that was built 20 or 30 years ago. It's also more likely to be up-to-date on building codes and less likely to suffer from any structural damage. These things will go a long way toward helping you get more money when it comes time to sell.
Everyone needs a place to live, so it's smart to think about how your choice of dwelling could benefit you. When you buy a new home instead of renting, you're able to build up equity and start building a solid life for yourself. That makes a new home purchase the best move for those who can afford it.