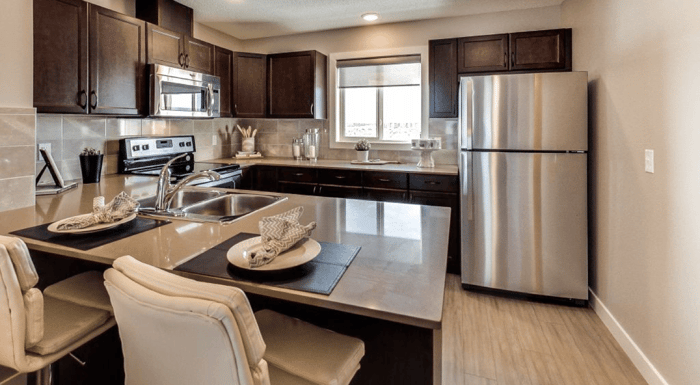 You know renting isn't helping you build any equity, but most of the homes for sale are set up for families and couples. If you're not quite at this stage of life, it's easy to dismiss the idea of purchasing your own home.
But, you may want to think twice about that!
StreetSide's Robson model is a town home offering everything you'd want in a brand-new home with a floor plan that's perfectly suited to living with a roommate. At almost 1,300 square feet, you'll have plenty of space to call your own.
While you'll ultimately have to qualify for a mortgage on your own, having a roommate greatly reduce your payments while allowing you to take advantage of all the equity.
Take a look at everything the Robson has to offer.
Two-Car Garage and Entry
With a two-car garage, you won't have to worry about brushing snow off the car in the winter months or tandem parking on a long, thin driveway. This convenience alone is sure to make your condo attractive to renters. You'll find a bit of extra storage space in the garage, but will be happy to note the additional storage room on the ground floor. It's a good place to keep holiday decorations or college memorabilia you're not ready to give up yet. You and guests can enter through the garage or through the front door into the foyer, where there's a closet to hang up your jackets and place muddy boots.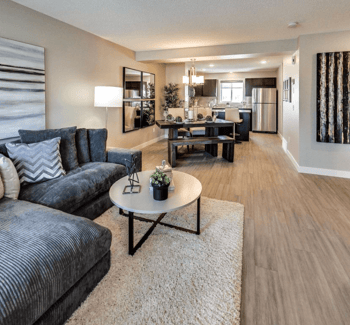 Comfortable Living on the Second Floor
Come up the stairs and walk into a spacious, open living area. The chic wood or laminate floors are easy to maintain and will last through the years. Add a throw rug in the living room for warmth or to brighten the place up. Relax on the sofa with a good book or settle in to watch a movie. The dining area is big enough to host a small dinner party, and guests will enjoy hanging out on the balcony.
You'll also enjoy the extra space in the kitchen. You and your roommate could both cook at the same time without constantly bumping into each other. And, don't worry about keeping foods separate. With a walk-in pantry, you'll have space for separate food storage and will be able to keep the kitchen neat and tidy.
Separate Suites on the Top Floor
When you're finally at a point in your life when you can afford something like a brand-new condo, you likely don't want to share a bathroom. That's part of what makes the Robson such a great floor plan.
While one of the two bedrooms on the top floor is slightly bigger and has a walk-in closet, the second bedroom is still spacious. Each room has a full ensuite so you won't have to worry about fighting over space to get ready during the morning rush.
There's also a laundry room on the top floor, which makes it easy to get your laundry done. You'll no longer have to make trips to the laundromat or trudge downstairs to a shared laundry area. This can also be a real selling point as you try to find a roommate.
Communities You'll Love
StreetSide's Robson model is available in condo communities throughout the Edmonton area. The McLaughlin community in the small town of Spruce Grove offers the chance to live in an area with plenty of walking trails. If you choose Tamarack, you'll be right across the street from the Meadows Rec Centre. Each community offers distinct advantages, so it's worth looking at both to see which one meets your needs. With a visit, you can tour the show home to see the high-quality StreetSide has to offer.
Your dream of homeownership is a lot closer than you may realize. With a condo like the Robson, you'll be able to live comfortably with a roommate to reduce your monthly costs while still building up equity. Stop by one of our show suites to speak with a manager about your new home.