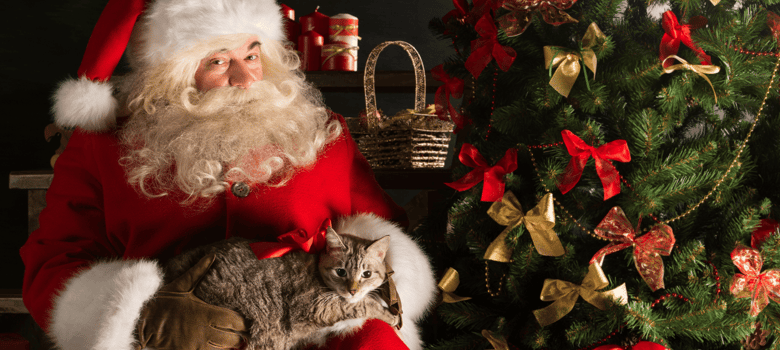 Pet parents can often feel left out of the holiday excitement, but we're starting to see more and more places offering you the opportunity to have your pet's photo taken with Santa. That's why we've put together a list of some of the best options throughout Edmonton so they're easy for you to find!
In some cases, the photo sessions are fundraisers for your favourite organizations that help animals. You'll get a cute photo and the sense of satisfaction that comes from knowing your money is serving a greater cause.
Bannerman Community Hall

November 24, 2018
The Frosty Paws Winter Market promises to be a fun time for all. You can expect to find a number of craft vendors, so this will be a good place to pick up presents for your pets or the other pet-lovers in your family. In addition to the shopping, Santa will be there for photos. This event is only from 12-4 p.m., so be sure to come early if you don't want to miss out on the pictures. All money raised at this event goes to the Greater Edmonton Animal Rescue Society.
Bonnie Doon Centre

November 24, 2018
The Bonnie Doon Centre is hosting its annual Paws and Claus event. This is a one-day-only event at the shopping centre where visitors are allowed to bring their pets for photos with Santa. Kids can get their pictures done as well. While the event runs from 10 a.m. to 6 p.m., it's important to note that Santa takes a break between 4 and 5. It's best to arrive early if you want to avoid that wait. Luckily, TELUS will be on hand with some fun activities for the kids to keep them occupied while waiting in line or during the break.
Londonderry Mall

November 26-27, 2018 and December 3-4, 2018
The Londonderry Mall is offering special dates when they allow dogs and cats to get pictures with Santa. This could be a good choice if you have children as well because you can get the kids in for their annual visit with the jolly fellow and have photos with both kids and pets.
Note: There may be longer lines at a more traditional Santa photo place like this one, so it might be smart to only bring pets that are comfortable around kids and animals, and make sure they take care of business before entering the mall.

PetSmart Locations
December 8-9, 2018 and December 15-16, 2018
PetSmart locations throughout Edmonton will have Santa Claws coming in for a visit. Photos are free, and while you're here you can stock up on food or some Christmas presents for your pet. Call the location nearest you for the exact times Santa will be available, though you can expect that most will hold this event in the afternoon hours.
Edmonton Humane Society

Various Dates and Times
During the month of December, the Edmonton Humane Society will offer people the opportunity to have their pet's photo taken with Santa. Proceeds will go to benefit the society. One of the nicest things about this location is that they'll allow more unusual pets like reptiles. Many of the other locations only take dogs or cats. Contact the Humane Society for more info.
Preparing Your Pet for a Photo Session

Taking a picture with Santa is a cute idea, but it's not right for all pets. Some pets are nervous around strangers. Others may not be good at waiting in a line with other animals. If this is a concern, it may be best to keep your pet at home. Consider making your own Santa photos by purchasing or renting a Santa costume, and having a known friend or family member play Santa.
If you are going to attend one of these fun photo events, think about incorporating a Christmas themed idea for the shoot. For instance, you might dress your pet up in a holiday sweater, put a Santa hat on him, or add a sign that says, "I'm on the good/naughty list." A highly-themed photo like this could be a great picture for your Christmas cards or your 2019 photo calendar.
Be smart about taking your pet for a photo session with Santa. Make sure you're going to a setting that your pet will be comfortable in. Some of these events will be less crowded than others. If you plan things well, you'll have a great memory of your pet to cherish and put on the mantel for many Christmases to come!