CHBA Alberta announced the finalists for the 2017 Awards of Excellence in Housing - and we finalized for three of them!
CHBA Alberta annouced the finalists for the 2017 Awards of Excellence in Housing, and StreetSide Developments has qualified as a finalist for three awards!

A letter from CHBA Alberta states that over 350 submissions came in from across Alberta to compete for top honours in the housing and safety awards. "This year's finalists, chosen by over 140 judges, are a great representation of the innovative work being done across the entire spectrum of Alberta's residential construction industry," said Donna Moore, CEO, BILD Alberta.
We are a finalist for the following:
Multi-Family Townhome Under $350,000
Multi-Family Luxury over $500,000
Multi-Family Project
Obviously our Essex model is turning heads this year - finalizing both locally, provincially and nationally! And why not? At 1493 sq. ft. this townhome offers dual master suites with gorgeous ensuites, a chef's dream kitchen and a spacious main floor laundry room. Who wouldn't love this model? View our show home in Crystallina here or stop by at 17832 78st and ask Nadine for a tour.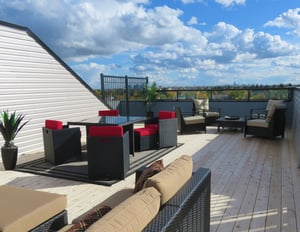 ALOFT Skyview is another project of ours that seems to getting a lot of attention - and for good reason! This luxurious condo building offers residents a rooftop patio with panaromic views of downtown Edmonton and is perfectly situated in NW Edmonton's Hudson community. Close to shops, dining and entertainment, this building also offers owners a way to reduce their carbon footprint with its energy efficient inclusions.
Winners for the 2017 CHBA Awards of Excellence in Housing will be announced on September 15th; stay tuned and wish us luck!