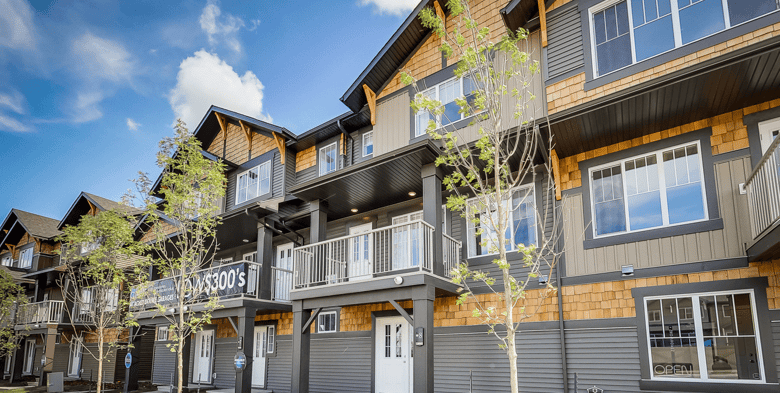 There's no doubt southwest Edmonton is one of the most popular areas in the city, and if you've been looking for the perfect location for your next home, you'll want to come check out Graydon Hill. The community is designed to have a rustic look, and residents love feeling as though they're still connected to nature. Learn more about this up-and-coming community, then make your purchase before it's too late.
1. Affordable Townhomes
As you shop for a home, you know it's important to find a home in your price range. Older homes might be a little more affordable, but the problems they have can be expensive to fix. StreetSide's ALTIUS townhomes are the perfect blend of style and affordability. You get to design the home you want – including all of the most popular modern touches – while sticking within your price range.
Today's townhomes are built for privacy. You might be sharing walls with your neighbours, but you won't be sharing their noise. Better building techniques and materials will make your townhome feel every bit as private as a detached home.
2. Flexible Floor Plans
When you choose StreetSide, you have the opportunity to select a design that has the features you want. There are six different floor plans available in the Graydon Hill community, so you're sure to find one that suits your needs. The Robson model, for instance, is a two-bedroom home - each with its own ensuite. This works well for those who want a roommate situation while building up some equity. The Madison, however, is a floor plan that appeals to those who need a little more space. There are three bedrooms on the top floor, and there's an additional den on the main living floor.
Exact details vary between different floor plans, but you'll find most of StreetSide's plans have the types of features you want: decks for entertaining, an ensuite in the master bedroom, and an open-concept plan in the main living area. Your life can be quite comfortable in any of these homes.
3. Nearby Amenities
To live a comfortable life, you need more than a home that meets all of your needs. You also want a variety of amenities like grocery stores, recreation centres, and shopping malls nearby. Fortunately, Graydon Hills is close to everything you might need. Shopping, for instance, couldn't be easier. Graydon Hill is situated between the Currents of Windermere Shopping Centre and the South Edmonton Common.
If you want to get active, head out to the Terwillegar Recreation Centre. Here, you can go swimming with the kids, take a group fitness class, or just get a good workout on the fitness equipment. They offer child-minding services and other special programs as well.
4. Easy Commuting
Don't forget to take your work commute into consideration when choosing a community. Having a shorter commute allows you to spend more time with your families or working on your hobbies. Graydon Hill is just a hop, skip, and a jump away from the Anthony Henday. This major roadway will take you anywhere in Edmonton. You're also close to the Queen Elizabeth II Highway, which will take you to the airport. Furthermore, the city is planning to build an LRT station in the future. Once that's finished, you can relax and read a book on your way to work.
5. Connecting to Nature
It's easy to feel connected to nature when you live in a community that's been planned to connect you. You'll love the way the trails throughout the neighbourhood take you along the environmental reserve that borders it. When construction is finished, you'll be able to walk from your home right into the reserve to enjoy the sights and sounds of nature. This convenience means you can take a family walk every night after dinner. For a change of pace, you can hop in your car and head to the nearby Whitemud Creek Ravine for the day. The well-maintained trails make it easy to enjoy your hikes.
When choosing a place to live, everyone has to look carefully at the criteria that matter most to them. No matter what's at the top of your list, though, you're likely to find it at Graydon Hill. Come visit the showhomes to get a sense of what your life could be like.