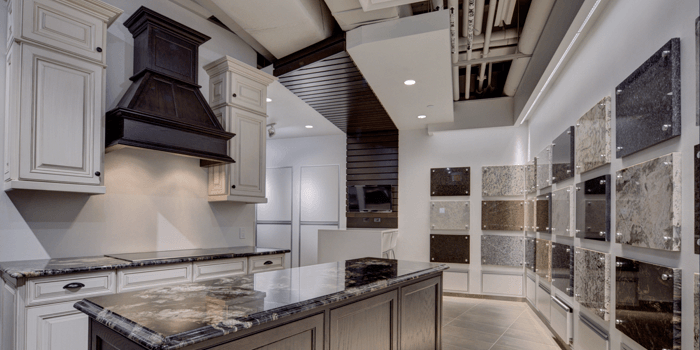 How do you envision your dream home? Do you see a warm kitchen for meals with the family or a top-of-the line chef's kitchen for entertaining? Would you prefer a polished spa-like master bathroom or do you prefer rich wood tones? When you choose a StreetSide home, you will have the freedom to customize most details of your new home to your exact tastes.
Once you choose to buy a home with StreetSide, you will receive a complimentary and private interior design consultation at designQ. You will meet with an interior designer to review seemingly limitless design options for your new home while viewing the included features and premium choices. During this appointment, you will choose from a full menu of products to give your home the layout, features, and finishes that fit your lifestyle.
The designQ appointment will take between four and seven hours to complete all of your selections. Before you leave, your interior designer will review your design options with you for your final approval.
What Can You Customize?
Our goal is giving you your dream home with as little stress as possible. An interior designer will help you ensure your finish materials and colours work beautifully to make your home unique. Whether you prefer modern, traditional, or transitional design, our designers will walk you through every step of the customization process.
Closets
Why settle for a standard closet when you can choose a custom closet organization system? A closet system will help you keep your things in order and make getting ready in the morning a delight.
Flooring
Do you prefer low-maintenance flooring options like laminate or do you love the feel of carpeting? Perhaps you want the natural beauty of stone flooring in the kitchen but ceramic tile in the bathrooms. Your interior designer will walk you through several flooring options for your home, each available in a myriad of styles and colours.
Lighting
From mood lighting to task lighting, your designer will walk you through the lighting fixtures for each area of your home. Depending on your home, this may include wall pendants, under-cabinet lighting, ceiling pendants, and track lighting.
Plumbing Fixtures
Bathroom fixtures come in many styles and colours. For our Triumph and Altius homeowners, you may chose fixtures with simple, clean lines for a minimalist style in brilliant nickel or chrome, or you may prefer the traditional look of rubbed bronze.
When it comes to faucets in the bathroom and kitchen, do you want a pull-down faucet to make it easier to fill large pots or do you prefer the custom look of a wall-mounted faucet? You will also have several options for bathroom and kitchen sinks, including stylish vessel sinks for the bathrooms and old-fashioned farmhouse sinks to give your kitchen a beautiful centrepiece.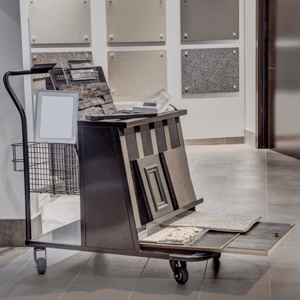 Cabinet Styles
Bathroom and kitchen cabinets are available in a wide variety of styles and materials. Do you love the simple beauty of shaker-style cabinetry or do you envision the distinctive architectural style of louvered cabinets? Whatever your tastes, your interior designer will show you samples of many types of cabinets and colour options to bring your vision to life.
Countertops
Your interior designer will help you choose the perfect countertops to coordinate with your cabinets and needs. Marble is a popular choice in bathrooms whereas granite is an elegant option for your kitchen. You may also prefer engineered quartz, which is just as strong as granite with less maintenance.
What Happens Next?
During your designQ appointment, you will choose and finalize all of your interior finish choices from the flooring to the cabinetry and more. After your choices are made, your home's construction will continue (if the home has already begun), or if it hasn't broken ground yet, your home's construction will begin shortly after.